The PBOC new fix for the Yuan – falling to 6.5569 versus 6.5180 yesterday – has seen it fall swiftly versus USD in the afternoon session. Note how fast its now accelerating off the trendline: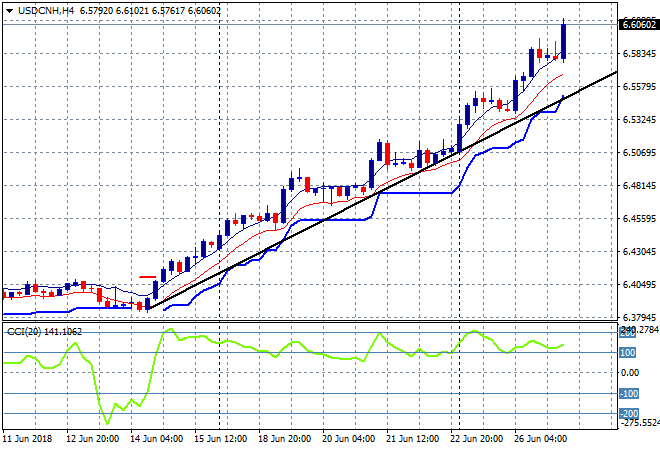 So of course, it's taking its proxy the Aussie with it, with a steep fall to the mid 73s for the Pacific Peso: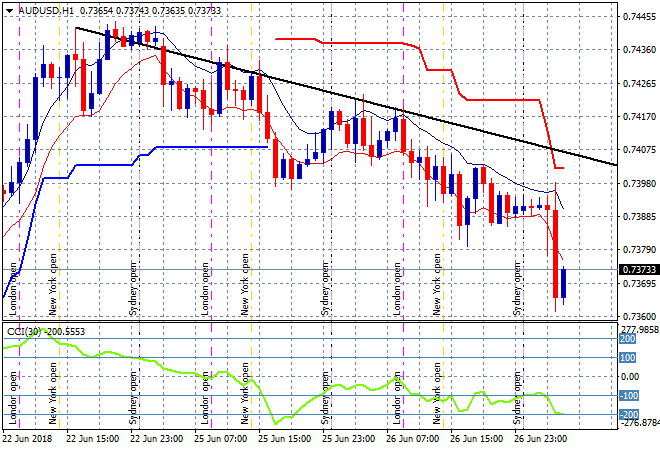 A big help for Aussie stocks, but this is looking tenuous indeed as the PBOC like the ECB is getting in front of a broadening trade war, via Bloomberg:
President Xi Jinping presided over a meeting of China's highest decision-making body for the first time to discuss China-US relations, according to Sassan Ghahramani, CEO of SGH Macro Advisors, in a note to clients.

At a subsequent two-day meeting, Xi reportedly spent over two hours talking about U.S.-China relations and called on all provinces and ministries to be prepared for a full-scale trade war, according to Ghahramani.

Chinese officials have concluded it appears inevitable the U.S. will impose tariffs on $34 billion worth of Chinese goods on July 6, and will respond accordingly with tariffs of their own.

Contrary to reports last week, SGH's understanding is there have been no talks between the Commerce Departments of the two sides.

In the short term, officials expect the currency will weaken due to trade concerns.

The PBOC also will refrain from increasing holdings of U.S. Treasuries and, in fact, will seek to reduce them "appropriately," Ghahramani writes.
Chinese and Japanese stocks are all off mid-session as Mrs Watanabe goes hell for leather on all the BOJ bond issues today.