Yen Approaches 15-Month High as Intervention Speculation Mounts
February 11, 2016 — 7:28 PM EST
Bank of Japan made `rate check' calls to banks, SGH Macro says

Currency close to erasing drop from BOJ's 2014 stimulus moves
The Japanese currency strengthened versus all its 16 major peers even as Finance Minister Taro Aso said the government will make the necessary response to market movements if needed and before BOJ Governor Haruhiko Kuroda is due to speak in parliament. The yen sharply pared its advance at about 7:20 a.m. in New York Thursday before resuming gains. The central bank made "rate check" calls to some banks with implicit questions on whether they planned to buy more yen, Sassan Ghahramani, head of SGH Macro Advisors, said in a note.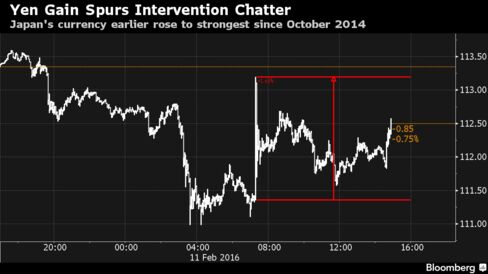 With global policy makers deploying unprecedented easing to boost growth, currencies have become an increasingly important channel for translating stimulus into more competitive exports and higher inflation. With the yen close to its level before a surprise expansion of stimulus in October 2014, traders are debating whether the central bank will step in to curb its strength. The BOJ hasn't intervened in currency markets since 2011.
"There may be a case for a variable or a small amount of intervention" based on the speed of moves over the last few days, said Ken Dickson, the Edinburgh-based investment director of currency at Standard Life Investments, which has about $390 billion under management. "Defending a specific level would not be acceptable to the general authorities around around the world, but managing volatility might be."
Risk Aversion
Dickson said sees the yen gaining in the near term from further bouts of risk aversion.
The yen rose 0.4 percent to 111.99 per dollar as of 9:16 a.m. in Tokyo from 112.42 in New York Thursday, when it touched 110.99, the strongest level since Oct. 31, 2014 — the day of the BOJ's stimulus boost. The yen was at 109.21 the day before officials acted.
The yen has rallied against all of the more than 150 currencies tracked by Bloomberg this year, amid concern about a slowdown in global growth and the credit quality of corporate borrowers.
Checking rates is sometimes intended to send a "strong warning shot" to markets that intervention may be on the way, SGH's Ghahramani wrote in the note.
Intervention Hints
The nation's currency chief Masatsugu Asakawa told Bloomberg on Thursday that the authorities are watching markets, reiterating Aso's comments earlier this week. Swiss National Bank President Thomas Jordan, meanwhile, said in an interview with Bilanz magazine that policy makers there are prepared to intervene in foreign-exchange markets. The Swiss franc touched a three-month high.
Investors anticipate bigger price swings in the yen in coming days, with one-week implied volatility climbing to a two-and-a-half-year high of 23.3 percent, data compiled by Bloomberg show. One-month and three-month price swings also rose to the highest since July 2013.
The dollar dropped past 113.94 yen on Wednesday, breaching the 76.4 percent Fibonacci retracement of its climb from a postwar nadir of 75.35 on Oct. 31, 2011, to its 13-year high of 125.86 on June 5. The next key level on the chart is 106.57, the 61.8 percent retracement, according to Fibonacci analysis.
HSBC Holdings Plc warned this week of a growing risk that the BOJ will step in to sell yen or cut interest rates. Morgan Stanley sees authorities limiting themselves to warning investors against pushing the exchange rate too far.
"They are going to have to do something soon," said Jennifer Vail, head of fixed-income research in Portland, Oregon, at U.S. Bank Wealth Management, which oversees $128 billion."But I'm not sure at this point that the move is enough to incent the BOJ to intervene directly with the currency."