Mario Draghi may look to the European Central Bank's past communication to find the right balance for the future.
The ECB is unlikely to announce changes to its policy or its forward guidance at its June 8 policy meeting in Tallinn, and the only step toward normalization may come in the form of an acknowledgment of the euro area's brightening economic prospects.
But there's a problem. Even as the economy improves, inflation shows little sign of accelerating. Sassan Ghahramani and Kevin Muehring at SGH Macro Advisors suggest that to square the circle he may reintroduce a separate description of the inflation outlook that has been missing since August 2014.
"While the Governing Council is almost certain to adjust its balance of risk assessment for growth next week as expected from the downside to neutral, it may very well choose to keep its balance of risk for inflation still leaning to the downside," they write.
Price growth slowed to 1.4 percent in May and the core rate dropped to 0.9 percent. Inflation expectations also still haven't shown any significant upward trend.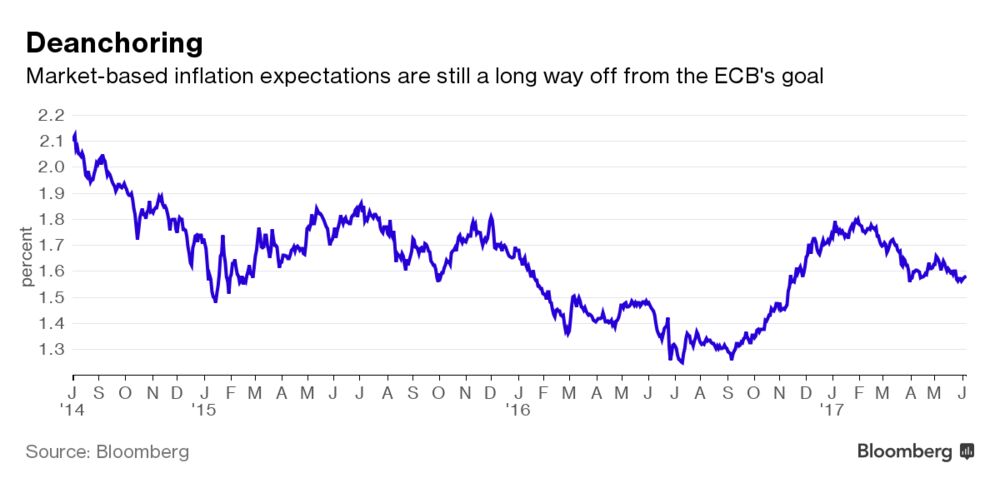 This matters for Draghi, who has repeatedly said that policy makers must be convinced that inflation can rise toward 2 percent on its own before removing monetary stimulus.
At the last policy meeting on April 27, Draghi said that risks to economic growth were "moving toward a more balanced configuration" but were still tilted to the downside. Economists in a Bloomberg survey predict the "downside" reference will be dropped. The last time the ECB said risks to the economy were broadly balanced was in August 2011 – before Draghi's term started.
Reintroducing a separate risk assessment for inflation would be a way to recognize the economy's improvement and signal cautiousness on inflation at the same time.
"It could be one of ECB's wild cards," said Frederik Ducrozet, an economist at Banque Pictet & Cie. "But if they do it I can't see them saying there are 'downside risks' – this has never happened before and would require fresh action. So, once they do it, I suppose they have to say risks are 'balanced.' It's just that it may be too early to do so without a formal move towards the exit."