The yen held its biggest gain in more than a month spurred when Japan's Prime Minister Shinzo Abe said he will postpone an increase in the nation's sales tax, fueling speculation the central bank will delay adding monetary stimulus.
Japan's currency advanced versus all of its 16 major peers Wednesday after Abe told lawmakers Japan's sales-tax increase will be delayed until 2019 and pledged structural reforms and fiscal stimulus. He
added
in a briefing that Japan would take broad, bold economic measures in the autumn, without elaborating. The yen also strengthened as lackluster manufacturing data from China to Europe prompted investors to plow into haven assets.
"This move in the yen is maybe more about a risk-off move, than sort of a positive sentiment," Sassan Ghahramani, chief executive officer of SGH Macro Advisors, said on Bloomberg Television. "People got a little bit ahead of themselves and were expecting some sort of announcement on a supplementary budget. When that didn't come, I think there was a bit of a disappointment trade."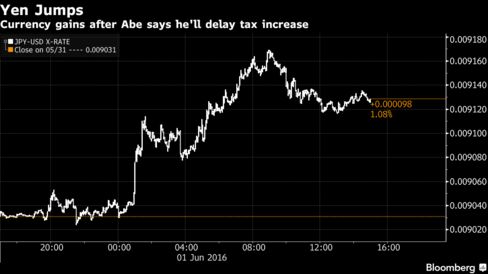 The yen is already the best-performing Group-of-10 currency this year before the Bank of Japan makes its next policy decision June 16. The central bank last eased monetary policy in January, introducing a negative interest-rate policy. The currency gained further still after the following two meetings in March and April when Governor Haruhiko Kuroda and his colleagues opted to refrain from more policy action.
The yen strengthened 0.1 percent to 109.45 per dollar as of 8:30 a.m. in Tokyo,  after surging 1.1 percent for the biggest gain since April 29 in the previous session. Japan's currency added 0.1 percent to 122.45 per euro, having climbed 0.6 percent on Wednesday. The euro was little changed at $1.1186.
China's purchasing managers' indexes for May added to evidence that growth remains subdued after the economy expanded last year at the slowest pace in more than two decades. Similar manufacturing gauges for the euro area and U.K. pointed to mediocre expansion, while a gauge for the U.S. is also due Wednesday.
What Next?
"The question is, where does the central bank go now?" David Bloom, head of global currency strategy at HSBC Holdings Plc, said in an interview on Bloomberg Television. "Are we talking the whirling sounds of helicopters? And that's what the market is asking itself," he added, referring to speculation the central bank will consider a more aggressive policy of injecting money.
 "Japan will proceed with structural reforms and mobilize fiscal policy to achieve strong growth," Abe told lawmakers from his ruling Liberal Democratic Party on Wednesday. "I want to fulfill my responsibility by speeding up Abenomics even more. In that context, I decided to postpone the increase in the sales tax to 10 percent by two-and-a-half years."
If the tax delay "prevents the Bank of Japan from easing again soon, then it can be seen as a negative for dollar-yen," said Steve Barrow, head of Group-of-10 strategy at Standard Bank Group Ltd. in London. "But I suspect that the BOJ will ease anyway. However, given the way that the dollar fell after the last easing, the market might be hard-wired to expect the same again."